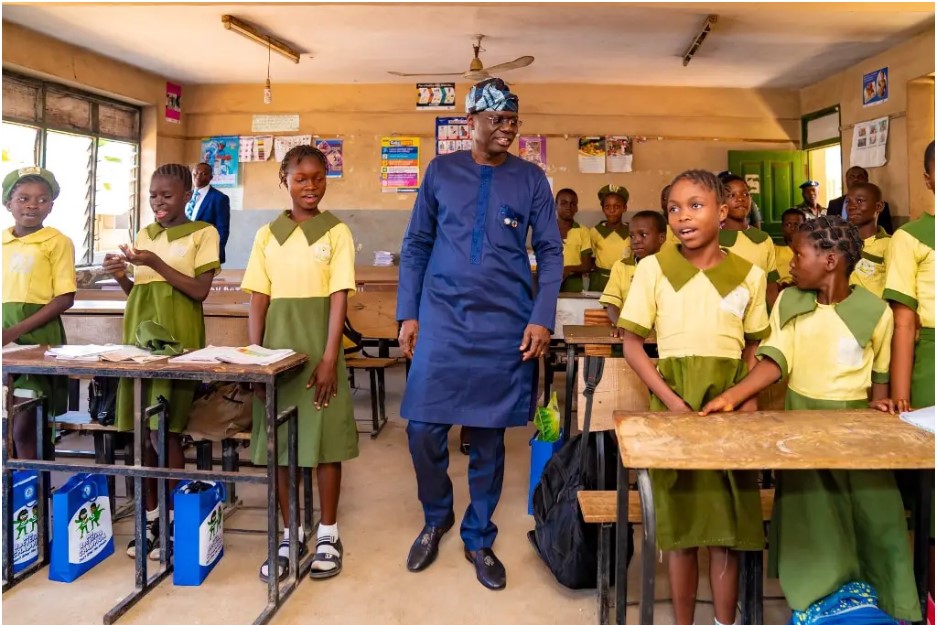 On December 19, 2011, the United Nations General Assembly adopted Resolution 66/170, designating October 11 as the International Day of the Girl Child. This important day was established to recognize the rights of girls and to draw attention to the unique challenges they face worldwide. As the world celebrates the 2023 International Day of the Girl Child under the theme "Invest in Girls' Rights: Our Leadership, Our Well-being," we reflect on the journey of empowerment and success achieved by girls in Lagos State, Nigeria, through the groundbreaking EKO Excellence in Child Education and Learning (EKOEXCEL) program.
EKOEXCEL stands as a beacon of hope and progress, illustrating the profound impact of investing in girls' rights from a young age. This initiative, launched in 2019 by Governor Babajide Sanwo-Olu, with oversight functions handled by the Lagos State Universal Basic Education Board (LASUBEB), under the leadership of Hon. Hakeem Babatunde Shittu, has been nothing short of transformative for the girls in Lagos's public primary schools.
In a collaborative effort, UNICEF and Plan International organized the 2023 event, which aims to unite adolescent girls with advocates for their rights, including UN leaders, NGOs, businesses, and governments. This event showcases a world where girls actively influence government policies, business practices, and research priorities. This vision requires global commitment and specific funding to become the norm.
The United Nations, in commemorating the International Day of the Girl Child, has highlighted the importance of investing in girls' rights for their leadership and well-being. UN Secretary-General António Guterres aptly stated, "Women and girls can lead us to a fairer future…let us amplify girls' voices, and recommit to working together to build a world where every girl can lead and thrive."
To amplify these voices and ensure that girls can indeed lead and thrive, the global community must invest boldly in the action needed to make this vision a reality. Girls worldwide are calling for change, and programs like EKOEXCEL are setting the standard for empowering girls to shape policies, influence business practices, and direct research priorities.
The program's methodology has played a pivotal role in fostering gender parity and empowering girls to take the lead in their education. By providing equal opportunities, EKOEXCEL has created a nurturing environment where girls can thrive.
One of the key achievements of the EKOEXCEL program is its commitment to professional development for teachers. Over 13,000 teachers have transitioned from analogue to digital teaching, equipping them with the tools and skills needed to provide high-quality education. This shift has not only improved teachers' effectiveness but has also enhanced the learning experiences of their students, including the girls.
Furthermore, the program's emphasis on gender-responsive teaching techniques has ensured that girls are active participants in the classroom. Teachers are trained to engage both boys and girls equally, making sure that no one is left behind. This has resulted in increased confidence and participation among female students, breaking down traditional gender barriers.
EKOEXCEL goes beyond the classroom, encouraging girls to participate in co-curricular activities and sports. By offering a wide range of options, including athletics, chess, and football, the program challenges stereotypes and promotes a holistic approach to education. Girls are given leadership roles, fostering qualities that will serve them well in the future.
In addition to its educational initiatives, EKOEXCEL's gender-focused monitoring system ensures that girls' attendance and academic performance are closely tracked. This proactive approach ensures that girls receive the support they need to succeed and that they don't drop out of the system unnoticed.
The results speak for themselves. In the recently concluded National Common Entrance Examinations, girls from Lagos's public primary schools under the EKOEXCEL program achieved exceptional scores. The top performers, including Ololade Ganiyat, Ugwu Victoria, and Chima Faith Mesomachukwu, showcased their excellence, demonstrating the effectiveness of EKOEXCEL's methodology in promoting gender parity.
EKOEXCEL's commitment to gender equality extends to the recruitment of female teachers, school leaders, and supervisors, serving as role models both in and out of the classroom. This approach fosters a more inclusive and empowering educational environment.
As we celebrate the International Day of the Girl Child, it's clear that Governor Babajide Sanwo-Olu's investment in girls' rights through EKOEXCEL is not only changing lives today but also shaping the leaders of tomorrow. By providing girls with quality education, equal opportunities, and the support they need to thrive, Lagos State is setting a powerful example of how investing in girls' rights can lead to a more equitable and prosperous future for all.
This article appeared originally on Nigerian Observer News, October 11, 2023