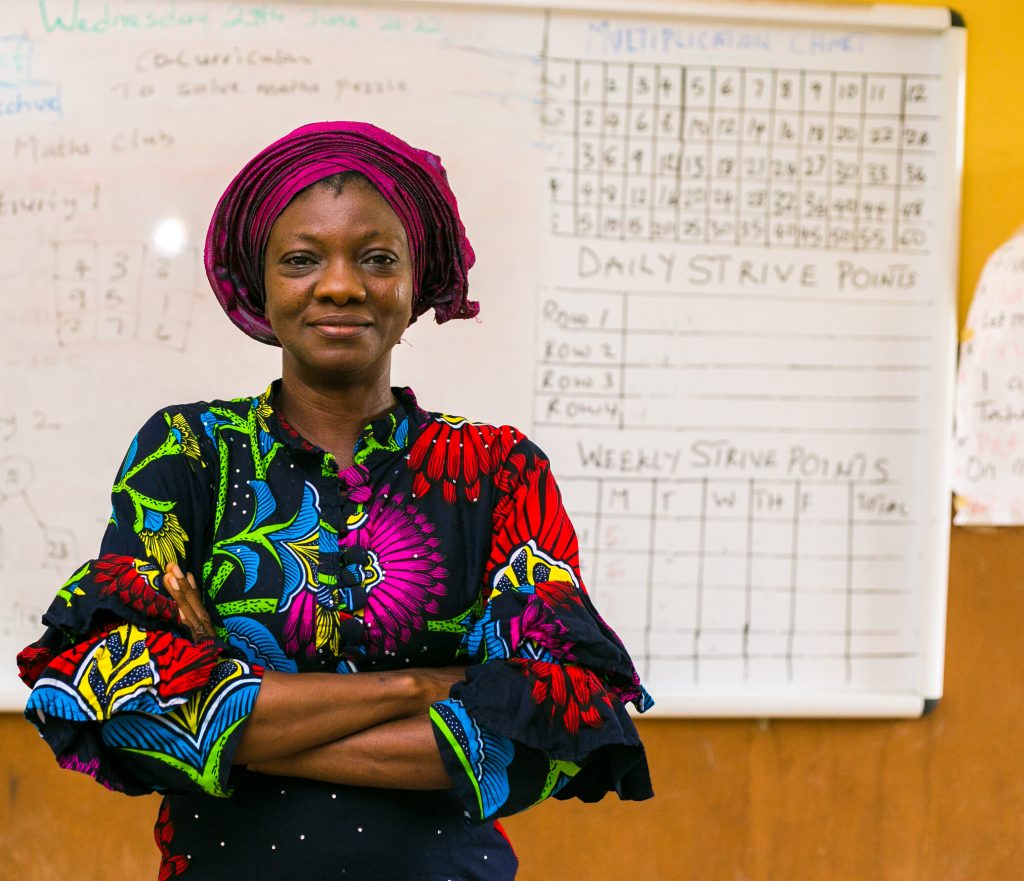 A 46-year-old primary one teacher at Army Barracks Primary School, Ikeja, Lagos, Mrs Oluwasanjo Elizabeth Adewunmi, has emerged as the winner of the second edition of the Lagos State Universal Basic Education Board's (LASUBEB) EKOEXCEL Excellence Recognition Scheme tagged "Meet EKOEXCEL".
'Meet EKOEXCEL' is a quarterly recognition that showcases pupil and teacher excellence using the pupil's grade levels and teacher performances.
Adewunmi, who joined the teaching service as an Assistant Teacher in 2006, was adjudged the winner based on her outstanding performance, particularly her devotion to teaching and improving her pupils.
She has proven herself to be a model EKOEXCEL teacher who goes the extra mile for her pupils. During her free time, Adewunmi reviews topics taught in every subject, the learning objectives and pupils' ability to understand them.
Mrs Adewunmi, born on February 29, 1976, also has a unique teaching method. Most times, she dances while teaching to make the learning atmosphere more enjoyable. When her pupils actively participate, she ensures the class cheers top performers and encourages the pupils that are falling behind to work harder.
Adewunmi also emphasises that hard work pays. She also prepares for the next day by previewing the next day's schedule on her tablet.
The mother of one began her primary school education at Rabiatu Thompson Primary School, Shitta, Surulere. She proceeded to Community High School, Adeniran Ogunsanya and obtained a Diploma in Educational Management from the University of Ibadan.
Adewunmi was deployed to Lagos State Model Nursery and Primary School, Ikeja GRA as an assistant teacher for two years before gaining a Bachelor of Art in Education from the University of Lagos.
She received EKOEXCEL training in late 2020 and was transferred to her current school, Army Barracks Primary School, implementing the transformational initiative.
Commenting on her emergence and EKOEXCEL's impacts, Mrs Adewunmi described it as innovative and beneficial.
She said, "The EKOEXCEL programme is the best solution the Lagos State government could have ever introduced into primary education. It maximises time and helps to make good use of a school day with the pupils in the teaching and learning. It also enhances teaching and learning. It is very detailed and encourages the pupils to be hardworking. The fact that pupils know how to spell and pronounce numerous words in primary one is a wonderful and amazing experience."
She added that she enjoys thinking about innovative ways to teach, saying whenever her pupils are less energised, they sing EKOEXCEL programme songs.
Mrs Adewunmi acknowledged her school's assigned supervisor, Mr Ezekiel, for ensuring that teachers were on track and celebrated her fellow teachers.
Since its launch in 2019 by Governor Babajide Sanwo-Olu, EKOEXCEL has positively impacted pupils and teachers in the state's public schools.
Lagos NUT Chair Comrade Akintoye Hassan recently hailed the impact of the intervention, which has received global and national recognition.
He said, "before the intervention, teaching was analogue. It was based on the competence of individual teachers manning the classroom, but the level of competence varies from one individual to another. Because of the analogue method, you couldn't thoroughly ascertain the performance standard. With the introduction of the highly digitised EKOEXCEL, we now have that standard. The teachers have a standardised digital instrument that leads them in the performance of their duties.
"Then, teaching before the intervention was more teacher-centred. But with EKOEXCEL, there is a standardised instrument guiding a teacher in Alimosho and another in Ibeju lekki or teachers within the same local government, but at different schools. The teacher determines how they go about the teaching, but they sometimes unconsciously forget that their teaching is about pupils in the classroom because a framework is absent."
Hassan added that "EKOEXCEL has changed as teaching and learning have become more pupil-centred. As you are teaching, you are also learning. The innovative technology has also enabled the teacher to learn because there is guidance."