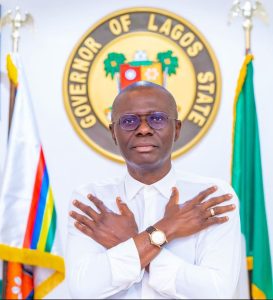 As the world marks the 2023 International Women's Day themed: 'DigitALL: Innovation and technology for gender equality', a researcher examines how Governor Babajide Sanwo-Olu has used the technology-driven EKOEXCEL initiative to promote gender equity in public schools.
While other parts of the globe have made significant progress in bridging gender inequality in education, sub-Saharan Africa continues to struggle.
A 2020 UNSECO gender report entitled: 'Progress towards gender parity in education is undeniable' noted that though, on average, global gender parity of education has been reached, Sub-Saharan Africa is yet to reach this level.
The report disclosed that there are still significant gender gaps in education in many Sub-Saharan African countries.
It further noted that as schooling progresses, these rates increase, pointing to a severe issue – current systems lack the support for girls to access and stay in education.
The report noted: "Girls continue to be more likely than boys to have never enrolled in school. Globally, of the 59 million primary school-age children who were not enrolled in 2018, 12 million, or 20%, have never attended school and will probably never start if current trends continue. Girls made up three-quarters (9 million) of such children, and over 4 million of those girls were in sub-Saharan Africa.
Between 1995 and 2018, the percentage of countries that had achieved gender parity rose from 56% to 65% in primary, 45% to 51% in lower secondary and 13% to 24% in upper secondary education. "Still, the considerable disparity at girls' expense remains, mostly in low-income sub-Saharan African countries.
In 2018, fewer than 90 girls were enrolled for every 100 boys in 7 countries in primary, 15 countries in lower secondary and 22 countries in upper secondary education.
"Another 2021 report by The Borgen Project, 'Disparities in Education in Nigeria,' disclosed that the country "has struggled with a weak education system for decades. Of the total number of children not in school worldwide, 20% live in Nigeria. Essentially, one in five children out of school resides in Nigeria. Girls make up a large percentage of children not in school."
The Lagos State Governor, Babajide Sanwo-Olu, who assumed office in 2019, was also aware of this problem. He made tackling it part of his larger plan for transforming education in the state.
Being one of his administration's critical focuses, he has worked hard in the last four years to transform the sector with policies, actions and funding.
The Lagos State Commissioner for Education, Mrs Folasade Adefisayo, gave more insight into the Governor's passion for education at the Brooking's Institute Education Systems Transformation Symposium themed: "Collaborative Work, Local Contexts, and False Dichotomies" she attended on February 17 in the United States. Adefisayo, who spoke on 'Education Systems Transformation: The Lagos Story,' mentioned how the Governor would love to do more for education.
"He calls me education and once asked me the percentage of the state's budget I would love for education. I told him 100 per cent, and he laughed. He said I could have 13 per cent, far more than other states allocate to education."
Aside from generously funding education, the Governor has also demonstrated faith in women's abilities by entrusting them with key responsibilities in his transformation journey. Apart from Adefisayo heading the Ministry of Education, women are also heads of two tertiary institutions in the state.
Professor of Medicine, Ibiyemi Olatunji-Bello, is the Vice Chancellor of the Lagos State University, and Professor of Health Education Bidemi Bilkis Lafiaji-Okuneye heads the recently created Lagos State University of Education.
But he has also paid attention to the foundation. That is primary education in his quest to bridge gender inequality and improve access to education for the girl child. The vehicle for doing this has been the impactful initiative EKOEXCEL, launched in 2019 to enhance pupils' learning outcomes across public primary schools. Operated with technical partners, NewGlobe, EKOEXCEL has strategically enthroned gender equity in public primary schools. Notably, the entire program boosts gender equity. All artwork and creative stories in textbooks and workbooks are commissioned to ensure equal visibility of male and female characters. Expressly, they represent female characters in influential, unconventional roles.
Teachers are trained to call on both boys and girls in the classroom. As fewer girls than boys usually tend to volunteer in class, teachers are trained to practise more cold calling to ensure equal participation.
EKOEXCEL further engages in systematic gender-responsive monitoring to ensure practical evaluation of the progress of each girl child across indicators like attendance and academic performance to ensure that girls are not left behind.
The methodology underpinning EKOEXCEL also encourages the employment of female teachers, school leaders and Supervisors who serve as role models within the classroom and community. It has a strict policy against corporal punishment —meaning girls become more confident, expressive and engaged in class.Girls are given school leadership roles through appointments of Head Girls and Prefects.
They can also wear dresses, skirts or trousers depending on school activities. At the same time, an effort is made to ensure all schools have well-maintained single-sex sanitation facilities. Commendably, the gap has started to close with Lagos female pupils excelling in examinations and competitions, including the National Common Entrance Examinations and National Junior Engineers, Technicians and Scientists (JETS).
As the world marks the 2023 International Women's Day themed 'DigitALL: Innovation and technology for gender equality', empirical facts show that Governor Sanwo-Olu has used the technology-driven EKOEXCEL initiative to promote gender equity in public schools. For him, there is no relegating girls to the background regarding education. They deserve the best, like their male counterparts, and this is what they are getting.
This article appeared originally on Daily Independent, Mar 9, 2023.